23.04.2015
The rising boxing star from ELMAT
Łukasz Różański , a boxer sponsored by ELMAT, took second place in a prestigious, very strongly staffed tournament for Montana Belt . The competition took place in the French city of Argenteuil near Paris. Our competitor, starting in the super heavyweight category, resolved the first two fights ahead of time. In the first of them, the completely dominated opponent from Ireland did not make it to the third round. In the semi-finals, Łukasz already knocked out the Norwegian champion, Simen Nyseter, in the first round.
The final clash with the multiple French champion in the royal division initially went according to our player's wishes. In the third minute of the last round, Łukasz hit a purely left hook – the opponent staggered, but he lasted until the end of the round. Unfortunately, it was not possible to clearly emphasize the end of the fight in their favor and the referees awarded the victory to the hosts' player.
Participation in the tournament itself is a huge dose of self-confidence – now Łukasz's goal is the Polish championship in Szczecin, taking place in less than two weeks.
ELMAT keeps his fingers crossed for Łukasz and wishes him more success!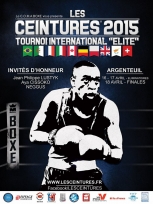 p>